Retailers: Consumer Confidence
Retail Industry Feels Consumer Confidence Pain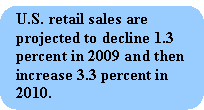 When consumer confidence is high, consumers tend to make more purchases, thereby aiding economic growth. Conversely, when consumer confidence is low, consumers make fewer purchases, bringing about economic decline. Consumer confidence serves as one of the key indicators for the overall performance of the U.S. economy. The Conference Board's Consumer Confidence Index™ is one of several indicators that track and measure consumer confidence in the United States. The index, which had decreased moderately in January, declined in February, reaching yet another all-time low.
In a February 2009 press release, Lynn Franco, director of The Conference Board Consumer Research Center, said: "All in all, not only do consumers feel overall economic conditions have grown more dire, but just as disconcerting, they anticipate no improvement in conditions over the next six months."
Retail Industry Forecast for 2009 and Beyond
Economic experts at the ICSC predict declining sales and profits for the U.S. retail industry in 2009. According to Michael P. Niemira, chief economist of the ICSC, U.S. retail sales will drop slightly more than five percent in first half of 2009. The NRF, on the other hand, projects a smaller decline in retail sales—a decrease of 2.5 percent—in the first half of the year. Retail sales are projected to advance nearly three percent in the second half, Niemira said. However, for full-year 2009, the retail industry is expected to decline less than two percent. Also that year, the ICSC forecasts a decline of almost eight percent in automobile sales from 2008. Niemira is confident, however, that retail sales will grow positively in 2010, estimating that industry sales will advance 3.3 percent in that year.