Contractors: Forecast
Construction industry forecast for 2008 and beyond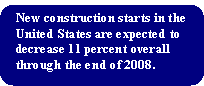 According to McGraw-Hill Construction, part of The McGraw-Hill Companies, overall construction starts dropped approximately 8 percent in 2007. And the year 2008 doesn't appear to be the turnaround year the industry may have hoped for, as overall construction starts are expected to be down. In its 2008 Construction Outlook Midyear Update, McGraw-Hill Construction projected that new construction starts through the end of 2008 will decrease 11 percent overall, with the construction of single-family homes serving as the main drag on activity. In 2008, McGraw-Hill Construction expects commercial construction to draw back, both in terms of dollar volume and square feet, after witnessing great levels of expansion in both 2006 and 2007. However, the construction outlook for 2008 isn't all gloom and doom, as there are some bright spots in the industry; namely, the institutional building and public works sectors are expected to register positive growth, according to McGraw-Hill Construction.
As demonstrated in the forecast for 2008, it's rare for all segments of the construction industry to be down at the same time, allowing construction companies to shift operations from building homes to office buildings, depending on market demand.
Other major near-term forecasts mentioned in McGraw-Hill Construction's 2008 Construction Outlook Midyear Update include:
* Single-family housing construction is projected to witness a steeper drop in 2008 than it did in 2007, with a 28-percent decline predicted for dollar volume and a 31-percent drop predicted for dwelling units.
* Slower economic growth and firmer lending conditions are anticipated to cause a drop in commercial building construction, down eight percent in dollar volume and 16 percent in square feet.
* Both the institutional building and public works segments are projected to increase two percent in dollar volume, though the former will experience a drop in square-footage terms.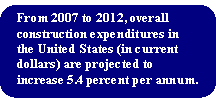 In the long term, overall construction expenditures in the United States (in current-dollar terms) are projected to increase 5.4 percent per annum from 2007 to 2012, according to projections by The Freedonia Group, Inc. ("The Freedonia Group"), a Cleveland, Ohio-based business research firm. During this period, the market will grow at a slightly slower pace compared to the rate of growth experienced from 2002 to 2007. A moderation in price increases will contribute to the slowdown, as rises in material and labor costs are expected to cool from those of the earlier five-year period. The three main market segments of the construction industry—residential, nonresidential and nonbuilding—are each expected to post average gains.
While the housing market is expected to improve in 2009 and beyond, it is expected that former-hot construction markets in areas such as Southern Florida and Las Vegas will take longer to pick up due to their great amount of oversupply. Once the residential market reduces its oversupply, new housing is expected to bounce back. Looking ahead, The Freedonia Group projects spending on institutional building will lead gains in the nonresidential segment; health care, in particular, will experience strong growth. However, demand for office and commercial buildings as well as industrial building construction will decelerate through 2012. Lastly, construction spending on transportation infrastructure will guide advances in the nonbuilding construction segment going forward.