Everyone Wants A Piece Of You
By
GPS
Jun 30, 2011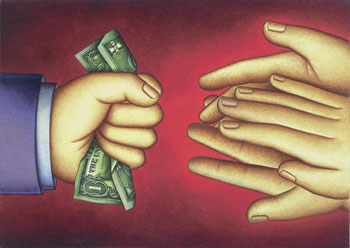 Draw the line and determine when to say "yes" and how to say "no"
An employee wants you to sponsor his son's little league team.
Your banker wants you on the dinner committee to plan the Annual Save the Naugahyde Ball, this year honoring Mr. and Mrs. Moneytree for their relentless efforts to protect Naugas from extinction. The privilege of a seat on the dinner committee comes complete with the responsibility of forking over enough to cover the cost for a table of 10.
One of your best customers approaches you for funds to help pay the way for the high school archeology club's once-in-a-lifetime opportunity for a spring break expedition to Daytona Beach where they will search for loose change.
The local state representative asks you to sit on an important steering committee which is to review economic development proposals.
Your daughter requests a donation of a couple of cases of your hottest product for the Spring Junior League Fashion Show and Tea.
And then there is your favorite not-forprofit, the hospital, the museum, the college, the religious institution, the Chamber of Commerce, the Boy and Girl Scouts and the YMCA.
The list goes on and on and on. In fact, the list of people and organizations lined up at your door, backed up on "hold" and clogging your e-mail is endless.
As a small or medium-size business it is highly unlikely that you are able to hand off the responsibilities to a Vice President for Corporate Social Responsibility (CSR), a Director of your Political Action Committee (PAC) or even a Coordinator of Corporate Philanthropy. Thus, the job of managing the endless string of requests falls onto the broad shoulders of the top dog—YOU.
After all, it was your skills at juggling opportunities, while keeping everyone happy, that landed you the title Entrepreneur. The problem is that all of the aforementioned requests were tossed at you within an hour of walking in the door this morning and they aren't the only decisions that need to be made.
Unfortunately, your resources—be they dollars or time—are finite. No one person, nor a division nor an entire corporation, can possibly do all that is asked. Drawing the line and determining when to say &fquot;yes" and how to say "no" are among the more important abilities that owners and managers of businesses must develop.
The good news is that you can learn to deal exclusively with the importance and role of corporate philanthropy and not the more complicated subjects of CSR and PACs.
CSR is a corporation's individual charter which mandates that they have an obligation to respect and take care of all of their stakeholders all of the time. Furthermore, it is the nature of such a corporate culture to make decisions in which the social and environmental outcomes override basic financial goals such as profitability. PACs are established to help manage contributions to political candidates.
The biggest companies in the world have entire departments to contend with the complexities of CSR and PACs. In your world, you often have just yourself to wade through the myriad of opportunities that fall under the heading "corporate philanthropy"
The premise of corporate philanthropy is really quite simple. On the balance sheet it shows up as goodwill. Corporate giving can also be a boost to your revenues and improve most, if not all, aspects of your internal and external human relations. Thoughtful planning and consistent, continuous execution can be a boost to your business. The lack of such might keep your business from reaching its potential and you from reaching your dreams.
A helpful plan will focus on turning goodwill into great results. Goodwill, of course, is an intangible. However, sensible corporate giving can be transformed into tangible cents.
Begin making decisions about where you will spend resources based upon contributions that are most likely to improve your reputation and to support marketing. The plan must include the budgeting of hard dollars and perhaps inventory. Furthermore, the plan should allocate time in the form of human resources—time for you and time for your staff.
Corporate philanthropy is not just about giving money and donating product. Often, the greatest returns come from the personal effort and the interaction you and your employees may have with the outside world such as neighbors, community leaders, customers, vendors and others.
Also, make certain you include those organizations, activities or causes that interest you even if they seemingly do not fit into the mix. You need to be totally motivated as well. If the boss isn't happy, then no one is happy. And, you never know when a potential customer or acquirer comes along that shares one or more of your own special interests. Imagine, after a year or so of bonding that there is an interest in making your firm a sole source for a component necessary in his or her company's production process. Then perhaps a year after that, the interest turns to acquiring your company. You have easily turned goodwill in great results.
Today, there are more than 1 million pages on the Internet that mention both "small business " and "philanthropy". Of those, about 40% add in the term "success".
Here are some useful guidelines for growing the number of success stories:
Establish a budget for how much money and how many hours your organization can set aside for involvement in charities and other philanthropic activities.
Communicate the company's dedication to corporate giving to employees and incorporate it into your financial and marketing materials.
Encourage employees to become involved on behalf of your business or themselves in company sponsored or supported charitable endeavors or outside activities of their own choice.
Begin channeling all requests to a single person in your firm.
Take all requests seriously.
Respond to all requests, acknowledging that they are under consideration at the beginning and then, when a decision is made, be it "yes" or "no" or "perhaps sometime in the future."
Standardize and automate the response system, but always personally sign the letter or other form of correspondence. Sometimes, you may have to make a personal call to explain your decision.
Follow through on your commitments by assigning an employee to represent your company and to manage the relationship with the organization to which you are contributing. In instances where you are personally involved, invite another employee to join you, both to deepen the relationship with the outside organization, but also to help take some of the responsibility off of your plate. Hold employees accountable for attending meetings, reporting on activities and results, making certain that the company obtains the recognition it has been offered for its support and for evaluating the overall effort.
Promote your involvement through your internal publications and through your industry magazines and newsletters.
Remain humble about your contributions, albeit proud of the accomplishments resulting from the "community" or "team" effort.
A commitment is made each time you agree to make a contribution. Many times it is simply writing a check and no more than a mention in a charity's annual report. At some point, you might be the major sponsor or co-sponsor of a civic or industry event. Almost each and every time, the charity, civic, industry, religious or athletic group has its responsibility as well. Among those are getting your name and the name of your business accurate, making certain the right logo is used, assuring you are invited to attend important meetings and above all, informing you of how your contributions were spent.
Your company may have negotiated for certain privileges and honors when agreeing to provide funds or other resources to an organization. Accountability is a two way street. If it was so agreed that there are posters printed, shirts or caps produced or directories published, it is imperative that your company's efforts are included and accurately portrayed.
For example:
Make sure the little league team has the right company logo visibly seen from a distance on the jerseys and caps you provided.
Make certain your name is spelled properly on all letters and literature used to promote the Annual Save the Naugahyde Ball. That includes making sure your company name is accurate on the card sitting in the center of your table for 17.
Make certain you have your company reps attend the Spring Junior League Fashion Show and Tea and demo the product. Make certain that the hostess for the event has your company name and your reps names correct.
Ask to review any press releases or external materials being sent by the economic development commission to make certain that your participation and your name are accurate. Ask if it can also be sent to your industry trade publications or whether you can send it yourself. Also, post the release on your own Internet site.
As for the archaeology club Daytona dig—as a public relations counselor and manager of reputations — I suggest we discuss that in private.